HiCap Records Presents a Night of Electronica 08-08-08
---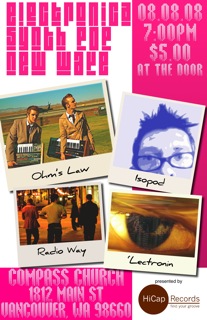 HiCap Records is proud to present a Night of Electronica on August 8, 2008 at 7:00 PM featuring four groups:
Ohm's Law (Palmdale, CA)
Isopod (Dallas, TX)
Radio Way (Portland, OR/The Dalles, OR)
lectronin (Portland, OR/Vancouver, WA)
It's happening at Compass Church at 1812 Main Street in Vancouver, WA (google map).
The show starts at 7:00 PM and there will be a cover charge of $5 at the door. Click on the names above to check out their sound and then come to the show to see the music and mayhem. See you there!